Back to Meetings
Green Transformation in Wuhan- International Consultation Workshop for Low-carbon City Roadmap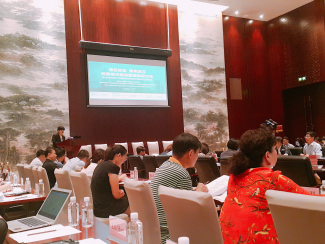 NEASPEC Secretariat in partnership with the Innovative Green and Development Programme (iGDP) organized the Green Transformation in Wuhan: International Consultation Workshop for Low-carbon City Roadmap on 11 June 2018 in Wuhan China as the first peer review workshop under the NEASPEC North-East Asia Low Carbon City Platform (NEA LCCP). 
This workshop brought together more than 100 participants with expertise in the field of low carbon city planning and policy, specifically from 14 district-level governments and Wuhan local institutions, city representatives from peer Chinese cities and Northeast Asian cities including representatives of Changsha, Guiyang, Shenzhen, Guangzhou, Qingdao and Shanghai, Jiangxi Province, Shanxi Province, Kitakyushu, Seoul and Incheon, and experts from both international and domestic research institutions.
The workshop built on previous research on Wuhan's carbon peaking and policy efforts by members of international and domestic research agencies, such as Energy Foundation, Rocky Mountain Institute, World Resources Institute, Natural Resources Defense Council, C40, and innovative Green Development Program, China Sustainable Transportation Center, and CITIC General Institute of Architectural Design and Research. It contained four sessions: the first session introduced the planning and implementation of Wuhan's carbon peaking policy plan and included an in-depth discussion on Wuhan's experiences, key lessons and next steps. The second session featured reviews of the low carbon policy experiences of other cities in China, Japan and Korea. The third session featured discussions about the sectors that will be important in achieving Wuhan's carbon peak, principally industry, transportation and buildings. The fourth session was dedicated to key topical areas in carbon reduction efforts - green finance and carbon trading, air pollution prevention and carbon mitigation co-benefits, near-zero carbon emissions zones, and high-efficiency cooling and HFC reduction.
The workshop was successful in exposing workshop participants to valuable new knowledge about low carbon city policy in China and Northeast Asia broadly. Participants expressed enthusiasm for learning from and sharing Wuhan's experience as model for other peaking efforts at the city level.
11 Jun 2018
Wuhan Municipal Development and Reform Commission

Nobuko Kajiura,

United Nations Economic and Social Commission for Asia and the Pacific (ESCAP) 

WANG Zhigao, Energy Foundation

HU Min, innovative Green Development Program (iGDP)
Theme 1: The Planning and Implementation of Wuhan's Carbon Peaking Policy Plan
Moderator: Nobuko Kajiura, United Nations Economic and Social Commission for Asia and the Pacific (ESCAP)
Presentations
Nobuko Kajiura,

United Nations Economic and Social Commission for Asia and the Pacific (ESCAP)

  

XIANG Dingxian, Wuhan Energy Conservation Supervision Center

YANG Li, innovative Green and Development Program (iGDP)
Comments by  (10 mins each)
Zhen Jin, Institute for Global Environmental Strategies (IGES)

Man Chi Lao, ICLEI East Asia Secretariat
Q & A and Discussions
[Discussion Questions]
Which experiences can be replicated and promoted in other cities? Based on the local characteristics of the city, what are the core factors that influence a city's preparation of a low-carbon development plan? How do we effectively promote the application of these factors?

How can we promote innovation in the preparation of district-level greenhouse inventories, the decomposition and implementation of operational tasks, the development of an indicator evaluation system, and institutional mechanisms and capacity building?
Panelists: (8 mins each)
LI Ting  Rocky Mountain Institute

YANG Xiu  National Center for Climate Change Strategy and International Cooperation (NCSC)

LIAO Cuiping, Guangzhou Institute of Energy of Chinese Academy of Sciences

ZHOU Yong, Institute of Science and Technology for Development of Shandong

LIU Jia, Shanghai Information Center
Theme 2: Peer Cities Experience Sharing – Carbon Peaking Planning and Implementation
Moderator: WANG Zhigao, Energy Foundation
[Key questions of the session]
What challenges do the cities face in formulating a carbon peaking plan and what measures can they take to deal with these challenges?

How do we balance the relationship between the achievement of carbon peaking goal and the socio-economic goals of the city such as GDP growth, population changes, employment rate, income levels, industrial upgrading, etc.

What kind of working process and key steps should be included in the formulation of the carbon peaking plan?

What kind of capacities or data/information support needed to formulate and implement the Carbon Peaking plan?
Panelists: (9 mins each)
YANG Yanli, Qingdao Institute of Bioenergy and Bioprocess Technology, Chinese Academy of Sciences

WANG Ke, Renmin University

ZHANG Jihong, Wuhan University

SHI Xin, International Urban Cooperation (IUC) Asia

ZHANG Fan, Hunan Low-carbon Development Center

Jiyoung Cho, Incheon Climate & Environment Research Center

Jung Min YU, Seoul Energy Corporation
Theme 3: Pathways of Carbon Peaking in Industry, Transportation and Buildings, Green Finance and Carbon Market Moderator:Wuhan Energy Conservation Supervision Center
Industry Sector (15 mins)

, 

CHEN Ji, Rocky Mountain Institute  

Transportation Sector (15 mins)

, 

JIANG Xiaoqian, World Resources Institute (WRI)     

Building Sector (15 mins)

, 

YU Zhongyi, CITIC General Institute of Architectural Design and Research & 

GU Peiqin, China Sustainable Transportation Center   

Green Finance and Carbon Trading  (15 mins), GE Xingan, Shenzhen Emission Exchange Center
Discussion Questions
The experience and challenges of the planning and effective implementation of sector-specific carbon peaking plan: how to incorporate the sector's carbon peaking target into the core goals of the sector's development?

How can green finance and carbon market support the green and low-carbon transformation of cities and their industries?
Panelists:
SHENG Lei, National Information Center

XU Shengnian, Global Environmental Institute

QIN Yan, Shanxi Ecological Environment Research Center

ZOU Song, Office of Wuhan Building Energy Saving

ZHANG Gao, China Hubei Emission Exchange

SUN Xiaoli, Wuhan Institute of Transportation Development Strategy
Theme 4: Discussion on Key Issues
Moderator: LIU Shuang, Energy Foundation
Issue 1: the co-benefits of air pollution prevention and climate change
Speaker 1: Mao Xianqiang, School of Environment, Beijing Normal University

Speaker 2: WANG Dong, Shenzhen Research Center for Climate Change  

Speaker 3: Junko Kito, Research Manager, IGES Kitakyushu Urban Center
Issue 2: Near-zero carbon emission zones
Speaker 1: LIU Junyue, Shenzhen Institute of Building Research  

Speaker 2: Masayuki Higuchi, Global Warming Prevention Division, City of Kitakyushu, Japan
Issue 3: High-efficiency refrigeration and HFC reduction
Speaker: HAN Wei, Energy Foundation

Speaker: HU Min, iGDP
Discussion Questions:
For cities that are seeking to improve air quality and reduce carbon emissions at the same time, what challenges they are facing and in what way they can address them? Are there good practices cities can share in dealing with air pollution and climate change simultaneously?" 

How to identify the technical and geographic scope of near-zero emissions zone? To develop the near-zero emissions zone and make it works, what policies the cities have adopted? 

How does a city can effectively reduce non-CO2 emissions with different policy instruments? In what way does a city can integrate these policies into its low-carbon policy planning and implementation? 
Q &A and Discussion
Wuhan Municipal Development and Reform Commission

Nobuko Kajiura,

United Nations Economic and Social Commission for Asia and the Pacific (ESCAP)

HU Min, iGDP