NEASPEC 24th Senior Officials Meeting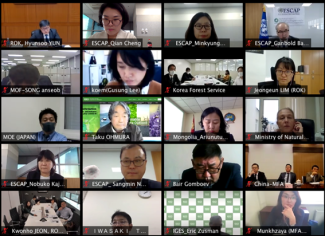 The 24th Senior Officials Meeting (SOM) was hosted by the Government of the Russian Federation via videoconference on 12-13 October 2020.
SOM is an annual occasion to review NEASPEC activities and to formulate new initiatives. In this connection, the SOM-24 reviewed and decided on (a) the NEASPEC Strategic Plan 2021-2025; (b) the North-East Asia Clean Air Partnership (NEACAP) workplan 2021-2025; and (c) the NEASPEC budget plan for 2021-2025.
Transboundary Air Pollution

Main Document [pdf] and presentation 
Annex I. Recommendation of the Second Meeting of the NEACAP SPC and TCs and draft Work Plan 2021-2025 [pdf]

Nature Conservation in Transboundary Areas
Marine Protected Areas
Low Carbon Cities
Desertification and Land Degradation
Review of the NEASPEC Strategic Plan
Review of Core Fund